Foundational Learning Initiative Lead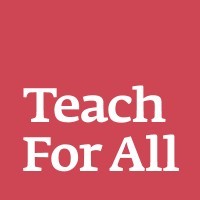 Teach For All
Kenya · Nigeria · South Africa · Ghana · Las Vegas, NV, USA · San Diego, CA, USA · Portland, OR, USA · Sacramento, CA, USA · Phoenix, AZ, USA · South Africa · Ghana · Nigeria · Kenya · Zimbabwe · Zambia · Rwanda · Mauritius · Côte d'Ivoire · Uganda
Posted on Wednesday, April 26, 2023
Network Learning Function, Global Initiatives and Programmatic Partnerships Team
Remote Locations: South Africa, Ghana, Kenya, Malawi, Nigeria, Zimbabwe, Zambia, Uganda, Rwanda, Mauritius and Cote D'Ivoire
Position Summary
To advance Teach For All's 25-year vision and intended outcomes, we are launching a Foundational Learning Initiative Lead to support network partners in sub-Saharan Africa to:
Increase effectiveness of teachers in advancing their own students' foundational literacy and numeracy (FLN)

Build the knowledge and mindsets of the teachers so they become leaders committed to FLN
Increase these leaders' awareness of the challenges and opportunities facing the effort to advance FLN at a systemic level
Support the advocacy and leadership of alumni (teaching fellows who have completed the two-year commitment) as a force for FLN
Teach For All is seeking the Lead of this Foundational Learning Initiative who will support network partners to strengthen their approach to developing teachers and leaders for advancing FLN by:
Developing a strategy for the FLN Initiative

Facilitating strong communities of practice and network learning, and supporting the creation of a fund to support Network Partners with their work in strengthening FLN.

Building and maintaining strategic relationships and external partnerships in the FLN space
About the Team
The Network Learning Function advances knowledge and learning in the Teach For All network to make progress toward our vision by growing collective leadership to ensure that all children can fulfill their potential. We do this by fostering communities of practice in our global network, surfacing and spreading insights through strong resources and learning experiences, building partnerships, and enabling connections for constituents to advance their own learning.[KW1]
This role will sit on the Global Initiatives and Programmatic Partnerships Team which currently houses the Educational Leadership, Education in Emergencies, Climate Change, Girls Education, Inclusive Education and Future of Work Initiatives and supports the organisation with Programmatic Partnerships that support our broader work within these Initiatives and beyond. This team may continue to grow as new Initiatives are developed.
As the Foundational Learning Initiative Lead at Teach For All, responsibilities will include the following and/or similar activities:
Strategic Leadership
Determining and executing on the strategy for developing and supporting FLN within sub-Saharan Africa and leveraging that learning to support the global network.

Continuously evaluating the needs of the network and impact of the Initiative in order to enhance FLN learning and growth across the network.
Build Strategic Relationships and Partnerships
Cultivating external relationships with partners in the FLN space in order to support network learning and growth (with organisations such as Room to Read, Teaching at the Right Level and Funda Wunda).

Supporting network partners to determine how to contextualise and embed the resources these organisations have developed within Teach For All's approach and each network partner's context.

Working with the Global Grantmaking Team and other stakeholders to initiate a fund to provide grants to network partners in order to pursue partnerships and strengthen their approach to training and supporting teachers in FLN; developing the concept for the Fund, Request for Proposals, Selection Criteria and Rubric, and developing the independent Committee that will select grantees.
Facilitating Strong Network Learning
Fostering learning communities among staff members, teachers, and alumni to explore the systemic challenges, latest innovations, and initiatives to advance FLN.

Providing access to shared learning experiences that support strong teacher development for advancing FLN.

Support network alumni to build an understanding of how to maximise their long-term impact to FLN.
External Leadership
Serving as an internal and external point person for all things FLN (e.g. identifying panelists for speaking engagements, supporting Public Affairs in various projects).

Finding outlets to elevate the voices of our alumni and network partners related to FLN.

Supporting Teach For All's effort to generate resources for FLN and create materials to illustrate impact.

Building an Advisory Committee to support and guide the Initiative (including external and internal expertise and stakeholders)
As the ideal candidate, you will bring:
At least 10 years work experience, including direct work and expertise within the focus area of Foundational Learning in sub-Saharan Africa.

Exceptional communications that can clearly communicate to an international audience as well as effectively convey stories that can compel others to act

Ability to build strong relationships with multiple stakeholders from a range of cultures and understand their goals and motivations in order to support collaboration

Experience building mutually beneficial partnerships that enable impact

Ability to thrive in a high-energy and entrepreneurial organization as part of a collaborative and committed team

Ability to work collaboratively and flexibly with colleagues globally, including a high volume of virtual engagement (i.e., conference calls, social media, virtual collaboration tools) and regular calls during non-traditional working hours

Exceptional strategic thinking and reasoning skills — an orientation toward creativity and innovation, while also valuing cultural responsiveness and institutional knowledge

Ability to be generative and independently drive towards outcomes, demonstrating flexibility and shifting priorities as needed based on how the work evolves

Ability to work independently and proactively manage multiple projects and responsibilities across both internal and external teams of colleagues'

Must have sensitivity toward racial, cultural, and ideological diversity

Ability to work in English required, fluency in a second language is preferred, but not required

Exemplifies Teach For All's core values and a commitment to Teach For All's mission:

Reflects a sense of possibility in mindset and vision

Believes in the value of being locally rooted and globally informed

Drives toward constant learning and improvement

Convinced of the necessity of diversity and inclusiveness in our work

Believes in the interdependence between us and our partners in solving this global problem
What Teach For All Offers:
Commitment

to

cultivating a culture in which all staff members feel they belong, are valued for their contributions, and have an impact on our organization's progress

Professional and personal development experiences and ample opportunities to make a positive impact onto the work of Teach For All and beyond

Comprehensive benefits package designed for your well-being and work-life needs
All roles are 100% remote;, in some locations we offer the option for in-office collaborations
Generous time off and flexible work arrangements
And much more!
Compensation
Salary for this position is competitive and dependent on country of hire and prior work experience and includes a comprehensive benefits package.
Work authorization
Please note, this position is not eligible for employment visa sponsorship. All candidates must possess permanent local work authorization/permit in order to be considered.
Travel and Hours
All work is delivered virtually. Minimal travel possible when safe to do so and in accordance with local guidelines. Given that we work across different time zones, some non-traditional hours for early or later calls are an expectation of this role.
Application Instructions
If this opportunity sounds like the next best step in your career, please submit your resume or curriculum vitae (CV) and a one-page letter of motivation (in English) directly online. Your letter should summarize motivations for your application and how your skills and experience align with the terms of this opportunity. We look forward to learning about you and your passion for ensuring educational opportunity for all!
Applications are reviewed on a rolling basis. Therefore, candidates are encouraged to apply at their earliest convenience.
About Teach For All
Teach For All is a global network of 60 independent, locally led and governed partner organizations and a global organization committed to developing collective leadership to ensure all children fulfill their potential. Each network partner recruits and develops promising future leaders to teach in their nations' under-resourced schools and communities and, with this foundation, to work with others, inside and outside of education, to ensure all children are able to fulfill their potential. Teach For All's global organization works to increase the network's impact by capturing and spreading learning, facilitating connections among partners, accessing global resources, and fostering the leadership development of partner staff, teachers, and alumni.
Our Commitment to Diversity and Inclusiveness
We are committed to building a diverse and inclusive organization that inspires individuals of all backgrounds – across nationalities, races, ethnicity, religions, political views, economic backgrounds, sexual orientations, physical disabilities, languages, ages, genders and prior experiences – to bring their full selves to the work of ensuring educational opportunity for all.
In order to maximize our effectiveness in fulfilling Teach For All's mission, we also feel it is important to focus on increasing representation and inclusiveness with respect to two dimensions in particular: we prioritize diversity of geography because this can help us quickly understand and connect with the diverse cultures and geographies of the world. We also prioritize increasing the representation and inclusiveness of team members who themselves have experienced the inequities we're working to address by nature of sharing the background (e.g. economic, racial and ethnic, religious) of the most disadvantaged groups in their countries.