Grants and Partnerships Manager, Global Grantmaking Programs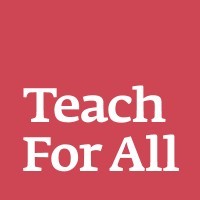 Teach For All
Sales & Business Development
Mexico · Chile · Colombia · Peru · Ecuador
Posted on Wednesday, December 21, 2022
Grants Operations Manager, Global Grantmaking Programs
Position Summary
To advance Teach For All's 25-year vision and intended outcomes, we are seeking a Grants and Partnerships Manager to provide day to day support and technical assistance to network partners receiving subgrants fromTeach for All. This person will build meaningful relationships with a portfolio of network partners across multiple regions and ensure the effective execution of key operational and communication tasks along the full subgrants lifecycle.
About the Team
The Global Grantmaking Team ensures that Teach For All's subgranting programs are equitably accelerating the desired impact and priorities of network partners by providing financial resources and support in ways that build financial sustainability and strengthen the relationship between Teach For All and our network partners.
Teach For All's grantmaking programs consist of an evolving mix of donor-directed subgrants as well as the Catalyst Fund, a funding mechanism that's guided by independent, external committees. The Catalyst Fund is driven by topic-specific Request for Proposals, and enlists independent reviewers to evaluate network partners' applications for funding, selects recipients based on these recommendations and further due diligence, disburses funds, and monitors progress. The Catalyst Fund aims to catalyze the growth, innovation, and sustainability of current network organizations and social entrepreneurs around the world through several kinds of grants.
The Grants and Partnerships Manager is an individual contributing role that will join a small but growing team that works in close partnership with the Subgrant Compliance/Finance team, as well as Teach For All's programmatic and fundraising staff, to administer the Catalyst Fund and other donor-directed subgrants, totaling approximately USD $14 million annually in grants to 50+ organizations around the world.
As a the Grants and Partnerships Manager at Teach For All, you will engage in the following and/or similar activities:
Act as a single point of contact and advisor, build strong relationships with and and provides day-to-day support (e.g., clarifications on applications and reports, support on due diligence requirements, troubleshooting issues with Teach For All's online grants portal) for network partners in 2-3 of the following regions:

Americas, Europe, Asia Pacific, Africa, and/or theMiddle East/North Africa

In close partnership with Finance, coordinate subgranting processes for network partners and TFAll staff, providing end to end support throughout the subgrant lifecycle, including onboarding network partners to the grants portal and facilitating core processes (grant payments, grant modifications, grant reporting, and exceptions)

Lead the full execution of one or more Catalyst Fund grant initiatives, including:

Working with Global Enabling and Program teams to structure funds, understand financial outlook, establish timelines, refine initiative metrics, and develop request for proposals

Developing fund related materials and managing ongoing communications with network partners and Teach For All's programmatic, finance, and fundraising teams

Recruiting, onboarding, coordinating and engaging external grant committees

Monitor relevant subgranting trends and network partner data to inform the design of new subgrant opportunities, inform process improvements and contribute to discussions about partner support opportunities

Support subgrants, regional and fund development teams in monitoring and reporting on grant progress and impact



As the ideal candidate, you will bring:
At least five years of professional experience managing the full life cycle of grantmaking operations, or equivalent experience in nonprofit finance, administration or project management

Experience in managing grants internationally from a diverse array of organizations of different sizes, structures and managerial philosophies

Knowledge of the philanthropic sector and core understanding of trust-based philanthropy, its philosophy and methods

Ability to foster and manage a diverse range of relationships within a growing global community, with ability to influence and mobilize others while working virtually and remotely

Strong analytical and strategic thinking skills

Excellent project management skills with strong attention to detail

Ability to operate successfully in an ambiguous, entrepreneurial, collaborative, and fast-moving environment

Fluency in English and Spanish is required

Experience working or living in Asia, Africa, Americas, Middle East North Africa, and/or continental Europe regions



Additional desirable skills/experiences (not required):
Experience working in a subgranting environment

Familiarity with Teach For All's network

Other desired languages: Arabic, French, Portuguese
What Teach For All Offers:
Commitment

to

cultivating a culture in which all staff members feel they belong, are valued for their contributions, and have an impact on our organization's progress

Professional and personal development experiences and ample opportunities to make a positive impact on the work of Teach For All and beyond

Comprehensive benefits package designed for your well-being and work-life needs
All roles are 100% remote; in some locations we offer the option for in-office collaborations
Generous time off and flexible work arrangements
And much more!
Application Instructions
If this opportunity sounds like the next best step in your career, please submit your resume or curriculum vitae (CV) and a one-page letter of motivation (in English) directly online. Your letter should summarize motivations for your application and how your skills and experience align with the terms of this opportunity. We look forward to learning about you and your passion for ensuring educational opportunity for all!
Applications are reviewed on a rolling basis. Therefore, candidates are encouraged to apply at their earliest convenience.
Work authorization
Please note, this position is not eligible for employment visa sponsorship. All candidates must possess permanent local work authorization/permit in order to be considered.
Travel and Hours
All work is delivered virtually. Up to10% of travel may be required. Given that we work across different time zones, some non-traditional hours for early or later calls are an expectation of this role.
About Teach For All
Teach For All is a global network of 60 independent, locally led and governed partner organizations and a global organization committed to developing collective leadership to ensure all children fulfill their potential. Each network partner recruits and develops promising future leaders to teach in their nations' under-resourced schools and communities and, with this foundation, to work with others, inside and outside of education, to ensure all children are able to fulfill their potential. Teach For All's global organization works to increase the network's impact by capturing and spreading learning, facilitating connections among partners, accessing global resources, and fostering the leadership development of partner staff, teachers, and alumni.
Our Commitment to Diversity and Inclusiveness
We are committed to building a diverse and inclusive organization that inspires individuals of all backgrounds – across nationalities, races, ethnicity, religions, political views, economic backgrounds, sexual orientations, physical disabilities, languages, ages, genders and prior experiences – to bring their full selves to the work of ensuring educational opportunity for all.
In order to maximize our effectiveness in fulfilling Teach For All's mission, we also feel it is important to focus on increasing representation and inclusiveness with respect to two dimensions in particular: we prioritize diversity of geography because this can help us quickly understand and connect with the diverse cultures and geographies of the world. We also prioritize increasing the representation and inclusiveness of team members who themselves have experienced the inequities we're working to address by nature of sharing the background (e.g. economic, racial and ethnic, religious) of the most disadvantaged groups in their countries.